105UAH
When you order two
Water delivery in Kyiv
from the premium manufacturer No hidden fees
Service that keeps their words
Create order
New clients offer When ordering 2 or more bottles Choose your gift:
BOTTLE WATER
or
MODERN PUMP
Also, we accept bottles for exchange from other companies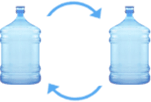 It is easy
1
You call us or leave a request
Mon-Sat: 8:00-18:00
Sun: 9:00-18:00
2
9:00-12:00
12:00-15:00
15:00-18:00
18:00-20:00
You choose one
of the four convenient
time intervals for the following day*
* time intervals could change due to severe weather conditions
3
You receive water at the predetermined time
You get a discount if we are late
Water for healthy and active life
100% high quality and certified product

Removes toxins

Boosts immunity

Balanced composition

Improves metabolism
No preservatives or additives
learn more about water production
How do we get water?
Sand
Cenomanian
aquiferous
horizon 65-120 м
Chalk
Jurassic
aquiferous
horizon
310-340м
Clay
with sand
Sandstone
with silt
Clay
blue
Sandstone
argillaceous
Unique water
from the depths of the Jurassic horizon!
Synthesizing the knowledge of geological and geophysical studies of the area, we managed to find the best artesian water in the Kyiv region. It was there, under layers of rocks at a depth of 335 m, that we found the unique water of the region. Thanks to layers with a diverse structure and composition, the water is protected from technogenic influence and has a unique taste.
The purity and taste of underground artesian water, which consists in the balance of vital elements, will always satisfy the energy and physiological needs of the human body.

Carefully preserved natural structure and composition

Contains natural trace elements and minerals
INTERNATIONAL CERTIFICATION SCHEME
European-style plant according to standards
Food Safety System Certification
European-style plant designed by Italian specialists taking into account the location
Water is extracted from a unique artesian well with a depth of 335 m. This is the deepest well in the Kyiv region
Fully automated production process
The best Italian equipment in the world by the R.Bardi company. This is more than 70 years of experience in this field
About us
The "Skandinavia" company celebrated its 9th anniversary in 2022. Then, in 2013, a group of like-minded technologists set themselves the task of offering high-quality water to the market. With the standards of natural springs in mountanious Scandinavia in mind, they tried to recreate their chemical composition as close as possible. It took our technologists a long time to discover the ideal composition of water, inspired by the Scandinavian springs.
With the use of the modern European technologies and equipment made by the world-renowned companies, such as General Electric GE, Magnum, Clack, Wave Cyber, Park Structural Tanks and others, our technologists successfully recreated the constitution and quality of the melt water.
And for the past 9 years, water Skandinavia has been pleasing Kyiv area residents with its quality and taste. "Skandinavia's" team, in the nearest future, is planning the expansion to new markets in other cities.